Birthdays
Plan the perfect party with us!

Treat your child to their best birthday party ever!
If you have a child who likes movies, video games, or rides, then you can earn some serious cool-parent points by planning their birthday party right here with us!
With up to sixteen players able to compete at one time, there's plenty of room for your child's group to battle it out against each other.
So unlike some other places with size restrictions, here at the XD Darkride Experience, they can invite all their friends to come & play!
This will be a unique party experience that their friends will be talking about all year – and your child gets to be the cool kid who had their party here!
Safe & Fun Environment!
With everything "all under one roof", you get the peace of mind that your children are in a safe environment where they can play and get as loud as they want!
The best part is, you don't even have to clean up afterwards. We'll handle that for you 🙂
Contact us today and see how we can help you…

About Us
The XD Darkride Experience is a thrilling interactive movie and immersive video game experience. It's a unique and fun attraction unlike anything else! Put us on top of your 'Things to do' list...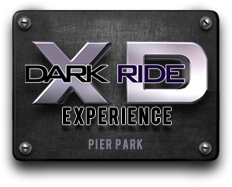 Pier Park, Panama City Beach, FL
701 Pier Park Drive, Suite 153
Panama City Beach, FL
Phone (850) 233-0804
Wildwood, New Jersey
4008 Boardwalk
Wildwood, NJ 08260
Phone (609) 305-5283